Interim Management Survey – The current climate
Russam's Managing Director, Jason Atkinson, has been diligently sending out surveys to a pool of interim managers (approx. 700), to gather information on the mood, activity, and emerging patterns in the market, and with a year of statistics gathered, he makes some observations.
"I've published a few articles over the past month – one titled "Interim Management in flourishing" and another stating that the UK's utilisation of Interim Managers is above average across Europe; and backed up by studies by KPMG and the INIMA – International Network of Interim Manager Associations. On the Russam front we are busy with interim projects especially for our clients in Private Equity, banking, manufacturing and not-for-profit sectors. It is clear that there is a lot of work out there for Interim Managers – in the past month "Change Management" and "Process Automation" the two most popular requests from our clients – and we see this historically during tough economic periods when perm recruitment gets hit hard (though with COVID and in recessions both permanent and interim hiring falls of a cliff, though interim is more resilient and tends to pick up quickly).
But then we have our "climate" survey and it appears to be contrary to everything we are seeing elsewhere.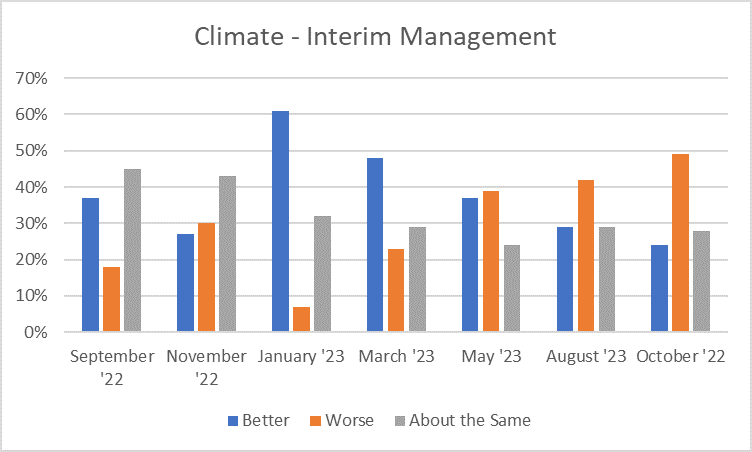 Since January of this year our Interims have become increasingly glum about the market for interim assignments. It has crashed from 61% Positive to 24% Positive in October '23.
Only 7% thought the outlook was Worse in January for the year ahead; and now the statistic is 49%. The Neutrals are very consistent with little movement 2 or 3% each way.
The results are surprising and my team and I have done a little bit more analysis. One trend is that:
Positive replies – weighted towards our clients/buyers of Interim Managers and Interims on assignment (they are happy to be working and perhaps less time to respond to our survey!)
Negative replies – weighted towards our Interims not currently on assignment and typically between assignments (note the average utilisation of UK Interims is 69% of the working days in the year; the average is 65% so more replies are coming from those not on assignments on the day of completing the survey)
The survey was not designed to be 100% scientifically accurate but just show some trends and provide a quick snapshot; hopefully the poll in early Dec will be more positive with new projects starting in the new year!
It is a great time to become an Interim Manager. Russam has prided itself over 42 years in helping senior, talented individuals to embark on a career as an Interim.
It is also a great time to hire an Interim Manager."
Please call us – https://russam.co.uk/contact/ or [email protected]