Russam Frontline 3: "60 days in the Interim Management Industry?"
By Jason Atkinson, Managing Director, Russam
Unfortunately, we are not in the business of placing Interim Prime Ministers. They say a week is a long time in politics, well the last 60 days has been pretty interesting also in our industry, with many fireworks along the way.
Firstly, here are the latest stats in terms of confidence from our bi-monthly barometer: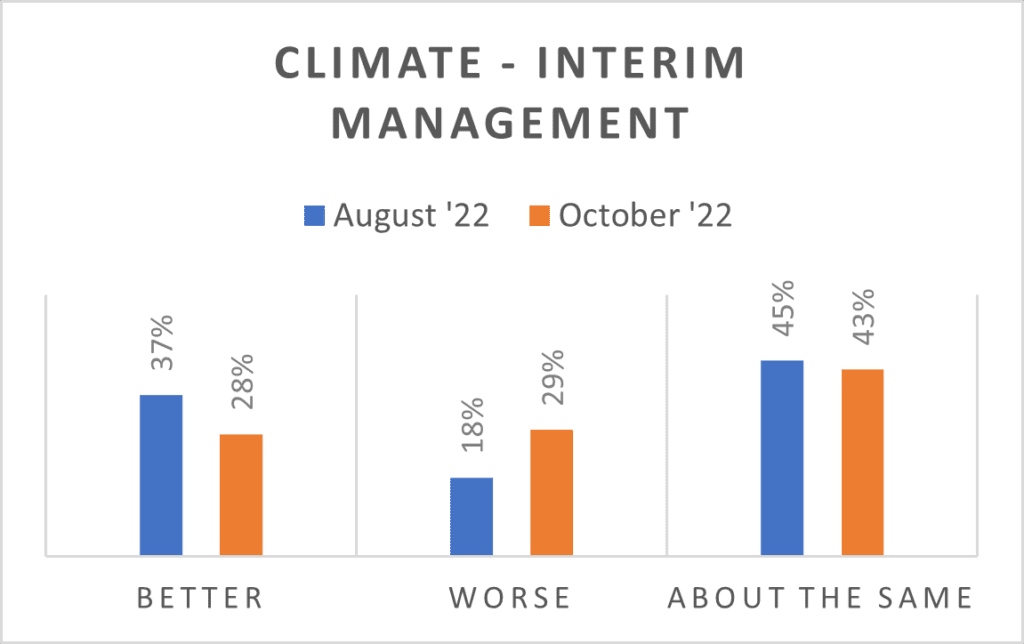 We are seeing rather a strong negative swing, and virtually all the positive votes are matched by negative feelings for the state of the market. Actually, the statistics for "worse" were at 33% just 24 hours ago but may have improved by the new PM taking office.
Chaos in government and the reversal of IR35 – which was so welcomed less than two months ago in the mini-budget – have made the biggest impact. We are perplexed by the IR35 u-turn; this is one growth measure that has a direct line to maintaining a strong level of work and contribution to UK plc; when our clients see a considerable constraint in hiring people. We need to make it easier and take the worries out of appointing genuine interims and other types of genuine self-employed workers and specialists. Mr Hunt needs to rethink this asap.
Despite the more negative shift we see in the statistics above, Russam continues to see a buoyant market for interim work, and the number of global projects has increased. For example, we are helping a Japanese media conglomerate find an Interim CFO for one of their major European markets; and a US private equity firm needing an Interim COO with a deep SaaS background to help with the transformation of a portfolio company in Germany. It remains a "candidate" market, and our interim vacancies are running 11% up from the same time last quarter.
What if we do go into recession? What we have seen during the recessions and downturns is the continued use of Interim as a solution by our clients. There will be different priorities and focus areas, but work continues to be commissioned and delivered. Permanent recruitment can fall rapidly, but Interim tends to be cyclical, reduces along a slower pattern, and then picks up quickly as the economy recovers.
I have also looked at the September '22 UK Report on Jobs survey from KPMG and the REC (our industry recruitment body). They are showing a slowdown in recruitment activity at the end of the third quarter of this year across "temp" and "perm" (it is not broken down into our more senior interim management work). The key takeaway is the shortage of actual people to fill the roles in creating the softening, not the fact that the supply of skills and talent is not needed. Certainly, we think our interim talent pool can play more of a part here, and I personally hope that our reappointed Home Secretary, Suella Braverman, considers ways to open up our borders more.
Finally, please do attend our next leadership roundtable event on: