Russam Frontline 8: Interim Management – UK vs. Europe – are we slipping behind here also?
"Interim" is hot at the moment, especially in the area of financial talent where we have numerous Interim CFO roles in progress (including 16 of the last 20 roles, and specialist areas such as FP&A). Our clients talk about needing great people quickly with the thought of transitioning them to a permanent leadership role (typically C-suite or one below). An interim, during current uncertain times, and through change, can bring something extra; they are seasoned and consultative and can help with the shaping of things including organisational structures (instead of rushing in with a permanent / fixed solution). One of my European-based multi-national clients spoke of the Interim FD being a "sparring partner to the MD".
Great people go quickly and I've been equally impressed with many of our clients' fast-track decision-making and excellent use of judgment.
I've just been digesting the 2023 Interim Management Survey from INIMA (International Network of Interim Manager Associations) and this includes stats from the UK.
Many of my colleagues in our global group (www.wilgroup.net) are involved in INIMA and they have, in my opinion, the best statistics on what is going on in our market.
The key headlines

Stats are just stats, but I fear that the UK is losing ground as the most mature and well-established interim management market.
The talent is still awesome and the Russam pool remains at about 25,000 strong. They are senior and experienced as the numbers show; unfortunately overall not enough gender mix.
Please note that 45.6% of Russam's current interim placement are female which we are very proud of.
We can also compare the INIMA stats with our own Russam statistics on "climate" – how positive or negative our interim candidates are feeling about the market. Table of results below from the last four reports.
The stat is up a little since March 23 – an increase from 48% to 53% –  but significantly below the European average which you will see above at 78%. Sorry to add to the already long list including post-Brexit GDP growth and inflation levels.
The UK trend chart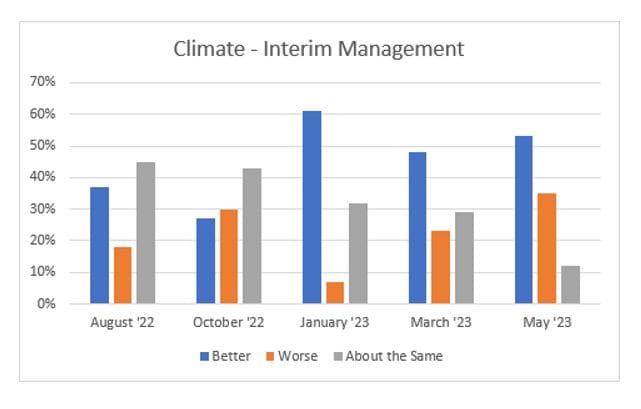 It wouldn't be a current or "in vogue" article unless I referenced ChatGPT which I've signed up for the first time today. This is what ChatGPT said about UK vs. Europe Interim Management:
The United Kingdom has been one of the pioneers in the development of the interim management market. Interim management refers to the temporary placement of highly experienced executives or managers in organizations to address specific challenges or manage periods of transition. This approach allows companies to access specialized expertise and leadership on a flexible basis without committing to long-term contracts.
The UK has a mature and well-established interim management market, with a broad range of service providers, consultancies, and interim management agencies. The demand for interim managers in the UK has been driven by factors such as organizational restructuring, business transformation, mergers and acquisitions, and the need for specialized expertise in various industries.
Compared to the rest of the world, the interim management market in the UK has traditionally been more developed and sophisticated. The concept of interim management originated in the UK in the 1970s and has since gained significant traction. The UK market has a strong pool of experienced interim managers who have a track record of delivering results in various sectors.
However, the interim management market has also grown globally over the years. Many countries, especially in Europe and North America, have witnessed an increase in the adoption of interim management as a strategic solution for organizations. In some countries, such as the Netherlands and Germany, the interim management market is also well-established and comparable to the UK in terms of maturity.
I couldn't have written it better myself:
Interestingly, the INIMA Survey asks Interim Managers what the biggest challenges are in 2023. There are the obvious ones like achieving day rates, economic instability, etc. but one that comes up is "Awareness to Interim Management"; how we as an industry communicate the benefits of interim management to our market and in particular the SMEs (note: 72% of IMs placed here in the UK in the past year were for larger companies with more than 100 employees). Essentially, companies/CEOs/business leaders don't know about this option for bringing in skills and capabilities! That is very upsetting to hear; we have been banging on about interim for nearly 42 years. If you are one of these people or know someone who is not yet a believer, please call me or read our GUIDE to Interim Management:
https://russam.co.uk/wp-content/uploads/2022/05/Russam_Guide_8pp_p2.pdf
Thanks for reading and welcome your comments.
Jason Atkinson, Managing Director, Russam