HR Roundtable 10 – The Value of Interims in a Challenging Economy Recap
On Thursday, 24th November, we held our 10th HR Roundtable discussion, and Jason Atkinson, our Managing Director and interim expert, led the conversation on:
The Value of Interims in a Challenging Economy.
We were joined by top interims and clients to gain first-hand experience and useful insights.
Jason's introduction highlighted that permanent hires are inclined to fall during economic decline, whereas interims tend to be countercyclical. Although not immune to economically challenging periods, the interim market bounces back more rapidly than permanent placements.
Below is a snapshot of a poll that Jason shared to see the perception of interim management in the market in terms of optimism/pessimism as we reach the end of 2022. The second survey was held after Truss's mini-budget and showed a 15% negative mood swing over the two-month period. But over 70% are still positive or neutral about the conditions for interim management.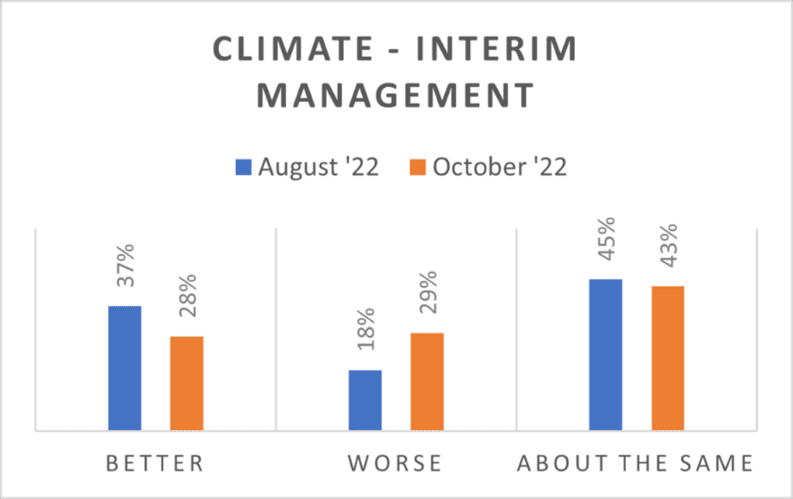 Jason also looked at an important indicator: the number of interims working and on assignment. This viewpoint was much more positive and shows arguably the highest levels ever recorded, which Jason had seen in his 17+ years in the industry.

During the last recession, the interim market remained robust because of the symbiosis between crisis management and interim management. Jason stated, "Interim Management is a business model that thrives in the face of uncertainty. Jason shared his top 8 advantages of hiring interim managers:
International coverage and deployment
Experience and Skills – unique in most cases, quick results
Availability
Immediate results
Value for money
Objectivity
Change and crisis management
Heart
You can read more about these advantages here
Hearing first-hand experiences of working as an interim manager and hiring interim managers is hugely valuable.
Our first speaker Lornette Pemberton was an interim that we placed in a project with National Portrait Gallery (view case study here). Initially, she was placed as interim on six months project but stayed for four and half years. She illustrated that interim senior managers were employed to stimulate change.
Additionally, the challenge to recruit permanent senior Finance, IT and HR individuals have led the company to consider using a different employment model and use interims to fill the skill gap. Legacy emerged as an important benefit for our clients and interims as they leave a legacy that will continue to improve the company's processes.
Our second speaker is the Managing Director of one of our top clients that operates in the supply chain in the food industry. During the sale of the business, they needed two very particular pieces of work completed to make the business viable to the new parent company. Firstly, an interim CFO with the capability to support the company through the due diligence process associated with an acquisition. Interestingly, out of the three candidates we shared with him, the individual that was appointed through Russam was not a natural cultural fit. They were successful because of their technical competency, and they weren't required to lead a team. Due to their experience, they managed unforeseen challenges from the acquisition.
The second example was around the need for specific experience and skills. He hired an interim to support their build of the cloud-based portal system to monetise the data they collected from the performance of the supply chain in the hospitality industry. For example, was the stock in the right quantity, temperature etc? The system was presented to allow their distributors to view the performance compared to other suppliers. Allowing them to gain a competitive advantage. These examples are about building capability rather than filling a capacity gap. "You don't know what you don't know". Therefore, interim allowed the company to innovate without worrying about the skillset of their staff.
Our third speaker was the amazing Simon Berry, one of the UK's top experts on the wonderful topic of Interim Management. Simon talked about measuring a project's success in terms of what is left six months after the interim is gone and whether there is a good legacy.
Secondly, our speaker mentioned that everyone has a different definition of an interim manager. 80% of people believe interims are responsible for implementing change – others associate interims with project and program management. Therefore, interims are traditionally associated with the implementation and operation of a project.
Simon presented a slide on where Interims fit in and how they mostly do a different job from the management consultant.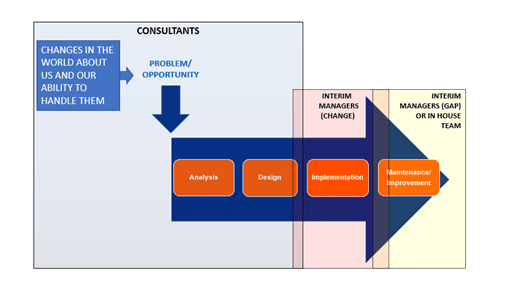 However, more and more frequently, interims are involved in the plan and design part of the process. Our speaker highlighted the example of an interim being asked to implement a project, but the plan and design would be unrealistic. Due to a more mature market – the interim is experienced in many varied projects. Therefore, enabling them to be aware of what would work and gives them the ability to plan and design a project, leading to more opportunities for the market.
The 10th edition of the HR Roundtable highlighted that interim thrive in times of volatility, and permanent recruitment has become more difficult, especially in senior finance, IT and HR professionals. Our second speaker uses interims for innovation rather than filling a skill gap, and the definition of interim should be broader, which could lead to more opportunities for the market.
As the conversation developed, there were insightful comments from the attendees and from the Russam Team. @David Jensen reminded us to agree on clear Statements of Work and, as the assignment continues, ensure they remain relevant and that the project deliverables are front of mind for all stakeholders. This is particularly valuable as clients invite other service providers to support transformation or other projects.
The Importance of using interims in a challenging economy is clear, and the Russam Team are ready to answer any questions.